Global Village's Best Releases Of 2020
Once again one of our artists is featured on KMUW's Global Village: Los Rurales made it to the spot 22. Thanks for the shoutout and consideration on the Best Releases of 2020.
Global Village Top 40 For November 2020
Duo Coincidencia is featured on KMUW's Gobal Village Top 40! You can listen to it here.
We are proud to share the release of two of our artists!
Nahui Cuarteto De Saxofones with "Coti Coti"
The Mexican saxophone quartet NAHUI CUARTETO DE SAXOFONES presents its debut album "Coti Coti" – nine compositions by famous Latin-American artists like ASTOR PIAZOLLA, Perez Prado and more in unusual but highly catchy interpretations!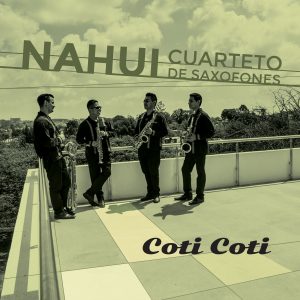 Duo Coincidenca with "Veracruz- Sones Y Flores"
For their debut album "Veracruz- Sones Y Flores", the Cuban-Mexican guitar duo DUO COINCIDENCIA worked with the highly respected arrangers EDUARDO MARTIN and WALFRIDO DOMINGUEZ. Nine sophisticated interpretations of classical guitar music, performed by two truly skilled and inspired masters.